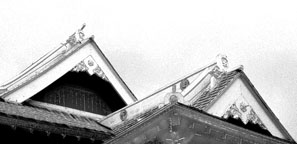 Pearl City Hongwanji is a Jodo Shinshu Buddhist Temple serving the Pearl City, Hawaii area since 1905.  Sunday service is conducted at the Temple most Sundays at 8:30 a.m.

Minister:  Rev. Mariko Nishiyama

We offer a variety of services including:     House Blessings and Dedication











Altar Blessings










Weddings










Infant Ceremony










Memorial
There are a number of groups affiliated with the Temple:


-
Fujinkai
: A women's organization that supports the temple and its activities

-
Dharma School:
A class for children held after Sunday services.

-
Wisteria Club
:  Click here for a list and calendar of activities.

-
Judo Club
: Teaches the sport of Judo through discipline and good sports-




manship.
       -
Aikido Club
: Teaches students to have proper mental attitude and disci-




  pline when executing physical movements.
Additionally, the Temple provides adult day care services.

For more information on the affiliated groups (including adult day care,) click the link in the column on the left.

To download a copy of Pearl City Hongwanji's brochure, click the links below.  (These are relatively large files in .pdf format so please be patient.)